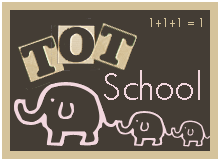 Sorry it has taken me so long to post our Tot School progress.. we've had some setbacks the past couple of weeks ..due to a certain toddler having a horribly erratic sleep schedule!
As I type this, Aidan is asleep.. in his OWN bed, and things seem to be getting back to normal.
So.. here we go! Last week was a review week for us.. Aidan was very excited to revisit some of the activities that we spent time on in the past weeks, and we did some new things too!
Apple
sequencing for letter A..
and, taking a break to play with his new train set he got for Christmas..
Bowling
for letter B!
I got this idea from
Lindsay's
blog.. we had some good,
cold
fun for letter C..
..snow in the sink! ..boy, was this a huge hit! :)
Then, Mommy completely forgot to take pictures for the rest of our Tot School week.. oops!
We wrapped up the week by playing
dress up
for letter D, and Aidan & I pretended to be
elephants
for letter E!
For more Tot School, head on over to
Carisa's
blog!