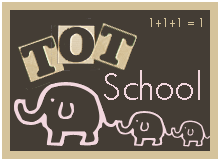 We're back!
We basically took the entire summer off from Tot School.. but that doesn't mean that we stopped learning.. Aidan is eager to explore everything these days, so we enjoyed the taking a break :)
Aidan was excited when he saw that we were going to continue learning about the alphabet.. picking up where we left off..
..Letter M for monkeys!
Aidan LOVES using a glue stick still, so I had to print out the
letter collage
for him.
Next up.. making muffins!
Aidan LOVES to help in the kitchen, so he was all over this activity!
Yummy chocolate chip muffins!
We got out the markers next, and Aidan had fun coloring & eventually drawing on himself..
..so we moved on to something different.. making monsters!
I found these at Michael's, Aidan loves stickers, so we spent a bunch of time making different monsters!
I also found some marbles at Michael's as well.. I never would have guessed that he would have so much fun playing with marbles.. he was entertained for hours!
His favorite thing to do with them, was to "race" them down his car ramp.. we had so much fun with them together :)
Since Mommy is on her iPod all of the time, I had to download some games to it for Aidan! I found a super cute matching game, and he has it completely mastered!
Still looking for some other apps for him,
so if anyone knows of any cute ones, let me know! :)
We had a fun week & look forward to reading about what everyone else has been up to!